Team CBSI:
Structured for Engineering Support
---
Every specialist on the CBSI team shares a common goal – support every client with the most trustworthy engineering expertise and the highest quality components in the cable-supported structure industry.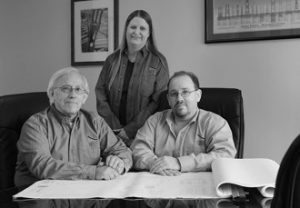 This team is led by Jerry Clodfelter, a nationally recognized leader in cable-supported structure technology. Jerry combines more than 30 years of hands-on experience in every aspect of design and construction with the latest state-of-the-art engineering to deliver cost-effective solutions for any application:
Pipeline bridges
Cable-supported roof structures
Pedestrian bridges
Guyed towers
Flare stacks
Highway/railroad bridges, tied arch
Bridge maintenance
Cable-supported tram systems
Components You Can Depend On
The standard bridge strands, ropes, structural sockets, castings and forgings we stock in our warehouses are subjected to the same rigorous engineering evaluations and manufacturing quality control we apply to those we design for extreme duty in uniquely specialized applications. SolidWorks 3D modeling allows us to optimize designs to maximize strength while minimizing waste.  We don't accept weak links, so don't have to make excuses for them later.
All-American Cast
CBSI castings utilize the latest pattern
line technology to insure every casting meets the highest standards for structural integrity. Standard castings are made to ASTM A148 GR 105/85 Steel, but we can also pour Stainless Steel CF8 and special exotics such as Titanium. Whatever the material, you can count on 100% Made-in-the-USA quality.
Forging a Stronger Future
All CBSI rod, socket and bolt products are forged to strict ASTM and ISO certification specifications by some of the top forging companies in the country. CBSI is also proud that all components are made of high quality, 100% U.S. Forged Steel.
Engineering You Can Trust
In addition to components designed to exceed the most demanding specifications, CBSI can also provide project-engineering support in a variety of other areas:
Design and manufacture of components for specialized applications
Quality control consulting
Project feasibility, engineering and design studies
Development of design specifications
Specialized project management
Project design and specification review
Bridge inspections, NDT and field maintenance
Construction, tensioning and cable installation
Successful Partnerships
CBSI consistently meets the most difficult civil engineering and construction challenges to satisfy the demanding requirements of local, state and federal agencies, as well as an expanding commercial and international clientele.
HNTB HDR
American Bridge/Mustang Engineering
CH2M Hill
Arcadis US
Arup
Hatch Mott McDonald
Bechtel
T.Y. Lin International
Parsons
Willbros Group
URS Corp.
Huitt-Zollars
Parsons BrinkerHoff
Bill Harbert Int.
Black & Veatch
Genesis Structures
Clear Span Engineering